Kimi's Potter Experience: Week 1
10:30 PM
Subject: ELECLIT (Elective for Literature)
Time & Date: Mondays & Wednesdays, starting January 7 til April 2015
Kimi's Potter Experience Blog posts: Every Thursday until the class ends
Hey guys! Welcome to a new feature on our blog,
Kimi's Potter Experience
! I am currently enrolled in a Rowling Literature Elective (ELECLIT) this term, and starting now, I will be chronicling my class experience on this blog every Thursday of the week.
The Rowling Literature Elective is basically a course on all things Harry Potter.
Did you read that right?
YES. I am taking a subject where we FREAKING STUDY EVERYTHING ABOUT HARRY POTTER.
Apparently, my school, DLSU, is the first (I'm not sure if it's still the only) university in the Philippines that offers a course on Harry Potter. And according to our professor, she has been teaching this subject for about 10 years now, even doing this BEFORE Harvard offered their Harry Potter curriculum.
I know, I know. That sounds amazing right? I'm actually really freaking out even up to now and my hands are shaking as I type this but I am WAY TOO HAPPY AND EXCITED AND ASDFGHJKL I LOVE THIS SUBJECT ALREADY,
I've heard about this subject
ages
ago, like even BEFORE I got into this school, and have wanted to take it ever since I heard about it. And now that I'm finally here, I JUST CAN'T CONTAIN MY FEELINGS BECAUSE THIS IS THE MOST AMAZING THING THAT HAS HAPPENED TO ME. EVER.
I'm starting to become a huge rambling mess with all my feels, so let's cut to the chase! I'll just be doing a recap of everything we did in this class. Since it was my first day, not much happened, but still enough for feels to explode.
KIMI'S POTTER EXPERIENCE
RUNDOWN OF WHAT HAPPENED
When I entered the room, it was pretty much jampacked and I had to sit at the back with my friend. We were passed this paper that had a lot of Potter and Rowling related questions and I had to fill them out of course.
(Scroll down to the end of the post to see my answers and the questions!)
After answering we had to pass the papers, and the professor started this little introduction on the course. She told us all about her experience seeing the Hogwarts castle live for the first time. She told us that she blurted out just two words after seeing it: "I'm home." I felt goosebumps all over when she told that story and I had to grab my friend because I was THAT HAPPY AND EXCITED I ALMOST CRIED. She explained to us that we are Batch 10 of the Rowling Elective, and that even after we graduate we will always keep coming back - because this is home. (EEEKKK SQUEEALSSS)
And true enough, she was right! Some of the people in front started to get up and then I realized that they were wearing Hogwarts uniforms!!! They started introducing themselves and talking about their experience taking this subject. They were actually alumni - people from previous batches who took this course. They had a lot of great stories, but I won't delve into them, since I'm focusing on MY experience this time. They pretty much took up the rest of the period telling us all about the time they spent in this class and how fun it all was, and my god, hearing all those great stories I wanted to jump out and hug them and cry happy tears. Finally, class was over and we had to move on with our lives. That's pretty much what happened on our first day.
WHAT WE WILL DO IN CLASS & WHAT TO EXPECT
1.
Sorting
- Yes, we will be sorted into different houses. Unfortunately, I don't think we will be having a Sorting Hat song, but yes we really will be placed into houses! I asked around and people told me that Professor would usually place you in the house that you chose - because the Sorting Hat always considers your choice! I chose Gryffindor, so I guess it's safe to say I'll be placed in that house. Let's see though, I'm kind of open to being sorted into other houses, just NOT HUFFLEPUFF PLEASE! For the love of God... I do not want to be a Hufflepuff :( No offense to any Hufflepuff fans out there.
2.
House Cup
- We have a house cup!!! We have to earn points throughout the term by reciting or doing some other good stuff and whichever house gets the highest points, wins the house cup!
3.
Feast
- We also have a feast!!!! It's at the last day of the term and it's also where we will celebrate winning the house cup!
4.
'Professor'
- We cannot call our professor 'miss' 'ma'm' or anything, or else we get deducted points. We have to call her 'professor'.
5.
Uniforms
- We get to wear uniforms! Since this class is every Monday and Wednesday, I'll be parading around school wearing my Hogwarts uniform on those 2 days every week. I don't have one yet, but I need to know what house I'm in before I get my robes made.
6.
Parchments
- We have 7 parchments, aka papers! We have to write some analysis or essay thing for every book, but we don't call them papers, we call them 'parchments'.
7.
O.W.L.S
. - And we even have O.W.L.S.! These will serve as our midterm exam and I really hope I do not get a Troll :< I heard from the alumni that this is like super hard and you will spend AT LEAST 3 days studying for it.
8.
Theatrical play
- For our final output, we will be putting on a play! YAY! The previous batches for the past 9 years had to do Deathly Hallows, but for this year, Professor wanted to shake things up and decided that we will instead do Tales of Beedle the Bard. I was kind of disappointed with this, because I REALLY wanted to do that Harry Potter play. But it still sounds like fun, since I haven't read TOBTB so this will be something new for me.
WHAT WE ARE SUPPOSED TO STUDY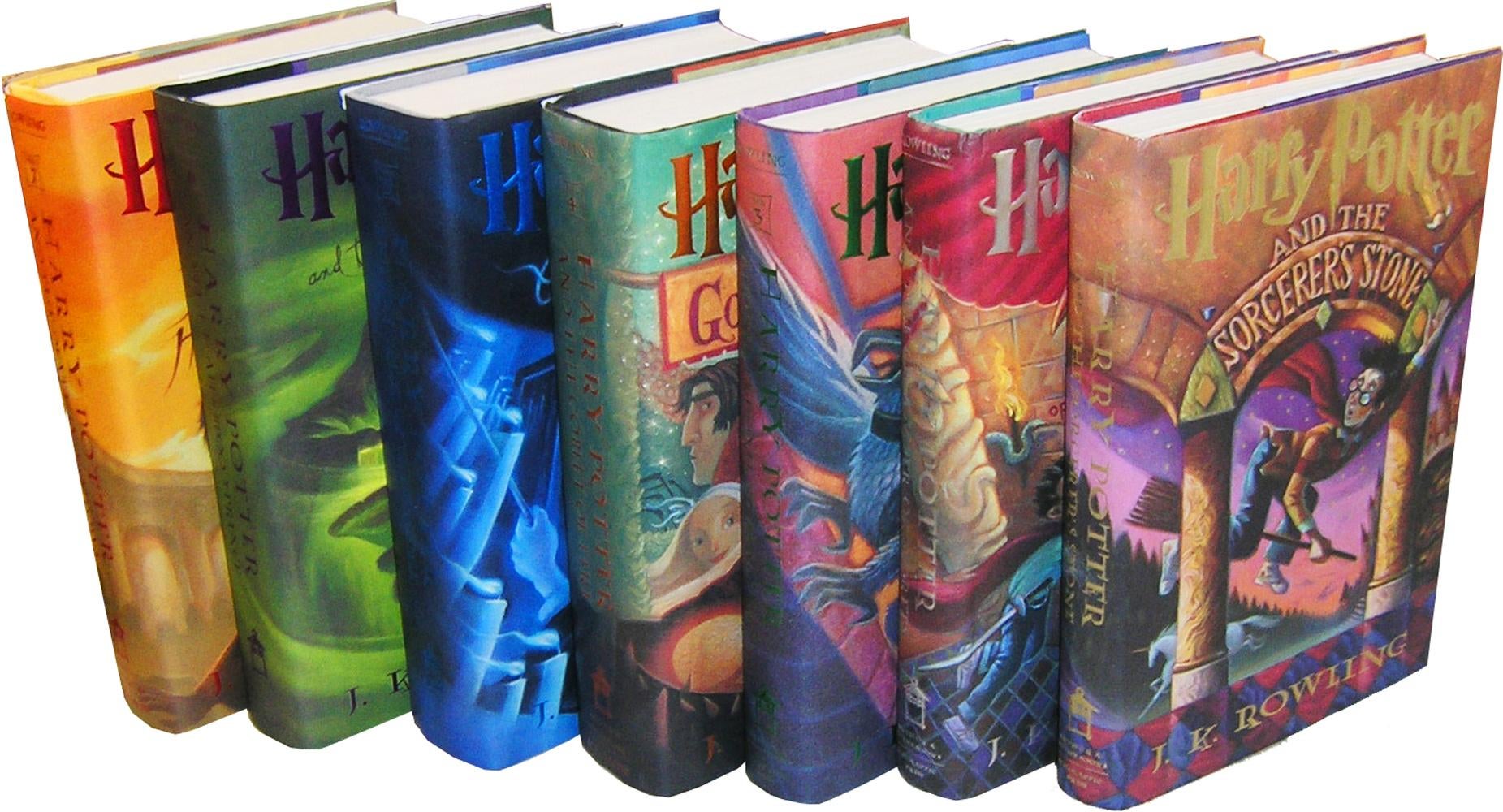 1.
All 7 Harry Potter books
- We are expected to read ALL of them. Well, I've read all of them numerous times, but I don't think that will be enough because this class is SERIOUSLY intense when it comes to EVERY SINGLE DETAIL. Since I own two sets of the books, I'm planning on reading the old ones and using them for notes. No, I hate dog-earing books, so I'll probably just stick sticky-notes on them.
2.
Tales of Beedle the Bard
- I haven't read this one yet, and I don't even own a copy! I'm excited to go buy it though and finally read it! At least this time, I could ask my parents to buy it for me, since it's technically a school book.
3.
The Cuckoo's Calling & Casual Vacancy
- These are both for extra credit, but I've always meant to read these anyway, so I probably will!
I'm pretty much excited but also very terrified about this subject. I know it's very intense and very very difficult (and there are others who have actually failed *gasp*) and I will probably spend a LOT of sleepless nights just for this subject - oh and I might stop reviewing or reading other books until April to focus on this (though I have already schedule some posts for the next few months so not to worry on that), I hope you guys understand - but I know it will all be worth it in the end. I'm extremely stoked about next week's meeting on Monday!
Oh and by the way, these were my answers to the short Harry Potter survey we had to answer.
Have you read all 7 HP books?
Yes
Have you seen all 8 HP movies?
Yes
Have you read Tales of Beedle the Bard?
No
Have you read Casual Vacancy?
No
Have you read Cuckoo's Calling?
No
Who's your favorite HP character and why?
Ron Weasley, because he is the most genuine and relatable character in the series. Plus I tend to root for underdogs.
What house would you be sorted in and why?
Probably Gryffindor, because I'm very stubborn and reckless, but I guess I could say I have a brave soul and I like to stand up for what is right
I'd love to know your answers to these too, so just comment them below!
So that's it for my first Potter post! What did you think of my first day? Are you guys as excited about this as I am? Next week, we're going to start with Sorcerer's Stone, so I'll keep you guys posted on that. If you want to join in my Potter experience, just comment below, and maybe we could have a read-a-thon of the books and go through this class together! I could even supply our class readings (because they are apparently very precious, and can't be found anywhere else) and share the essay questions and homework.