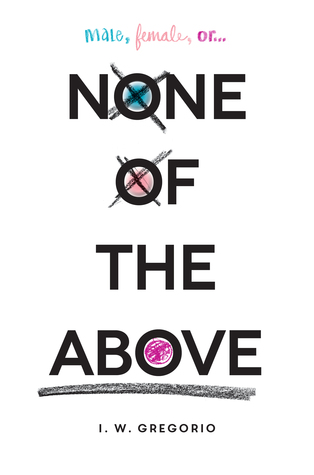 Title: None of the Above
Author: I.W. Gregorio
Publishing Date: April 7th 2015
Publisher: Balzer + Bray
Format: ARC
Rating: 5/5 stars
Summary:
A groundbreaking story about a teenage girl who discovers she was born intersex... and what happens when her secret is revealed to the entire school. Incredibly compelling and sensitively told, None of the Above is a thought-provoking novel that explores what it means to be a boy, a girl, or something in between.
What if everything you knew about yourself changed in an instant?
When Kristin Lattimer is voted homecoming queen, it seems like another piece of her ideal life has fallen into place. She's a champion hurdler with a full scholarship to college and she's madly in love with her boyfriend. In fact, she's decided that she's ready to take things to the next level with him.
But Kristin's first time isn't the perfect moment she's planned—something is very wrong. A visit to the doctor reveals the truth: Kristin is intersex, which means that though she outwardly looks like a girl, she has male chromosomes, not to mention boy "parts."
Dealing with her body is difficult enough, but when her diagnosis is leaked to the whole school, Kristin's entire identity is thrown into question. As her world unravels, can she come to terms with her new self?
"Love isn't a choice. You fall for the person, not their chromosomes."
I cannot stress enough how important this book is. There are a lot of great YA books, but only few are this brilliant. This is one of the most diverse, raw and incredible books I have ever read and I can't seem to find the appropriate words that would give justice to this masterpiece. This is the first book I've read about an intersex character, as well as one of the few times I have encountered such a word. This book gave me a deeper understanding of what an intersex is and the challenges they face in our society.
I have to admit that at first I had my doubts about this book and was extremely skeptical and critical as I read it. I knew the subject matter of this but I was afraid that it would not be handled all too well. But boy, I was wrong. It was not only handled well, it was handled brilliantly. It is evident how much research was put into writing this book, of course, nothing less to be expected from the author who is a surgeon who treated an intersex patient that inspired this novel. You can actually see that the author cares about what she's writing, that she' s passionate about this cause and subject and that she has taken extreme care into making this book as flawless as possible.
And yes, it delivers.
The novel is eye-opening. Kristin's story and struggle to be accepted in a society that is cruel, close minded and ignorant will impact you in ways unimaginable. It will make you question the standards and the norms we live in right now and will raise the questions: Does it really matter what chromosomes we have? Does it matter what our genders are? Does liking the color blue make you any less a female? Do any of these matter? There is a lot of discussion about gender, what constitutes it, identity, and what it truly means to be a girl or a boy.
Plot wise, I found some parts problematic and a little too convenient, especially in the romance aspect of the story. However, all things else I found the plot to be well-paced and Kristin's struggle to be very realistic. Her main support system in the book is of course her father and I loved how well their relationship is portrayed. He still sees Kristin the same way despite her condition and does his best to make it easier for her and support her in every decision she makes. Kristin is a strong MC and though she struggles and is insecure with her condition at first, I find her admirable as she constantly picks herself up and even fights for her spot in the track team. I loved her character development, and found the pacing just right. The novel ends a little too conveniently but I liked how it has a happy ending, as it gives a truly positive message about being intersex.
None of the Above is truly an honest and refreshing debut. It tackles some heavy matter but it does it just the right way. I feel as if this book will educate its readers more than it will entertain them, and that I think is what makes this a glorious contribution to young adult literature.