Book in Review: Simon vs. The Homo Sapiens Agenda by Becky Albertalli
9:54 PM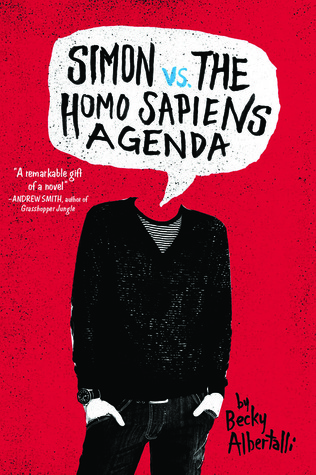 Title: Simon vs. The Homo Sapiens Agenda
Author: Becky Albertalli
Publishing Date: April 7th 2015
Publisher: Balzer + Bray
Format: ARC
Rating: 3/5 stars
Summary:
Sixteen-year-old and not-so-openly gay Simon Spier prefers to save his drama for the school musical. But when an email falls into the wrong hands, his secret is at risk of being thrust into the spotlight. Now Simon is actually being blackmailed: if he doesn't play wingman for class clown Martin, his sexual identity will become everyone's business. Worse, the privacy of Blue, the pen name of the boy he's been emailing, will be compromised.
With some messy dynamics emerging in his once tight-knit group of friends, and his email correspondence with Blue growing more flirtatious every day, Simon's junior year has suddenly gotten all kinds of complicated. Now, change-averse Simon has to find a way to step out of his comfort zone before he's pushed out—without alienating his friends, compromising himself, or fumbling a shot at happiness with the most confusing, adorable guy he's never met
I have mixed thoughts about this book and I am not too sure of what to think about it. On one hand, I found this to be an enjoyable and adorable read that got me giddy all over, but on the other, I felt like it lacked depth and substance to the story. The story is pretty simple to follow: Simon is a closeted gay boy, who has a secret online relationship with this guy named Blue. When one of his classmates, Martin, discovers their email conversations, he blackmails Simon to play matchmaker for him and Simon's friend Abby. Simon, who doesn't want his secret to be exposed, plays along.
Eventually, Simon is forced to go out of the closet and we see how Simon deals with the sudden turn of events.
Let me get this straight - the only thing I honestly liked about this book is the romance, and I didn't even like it that much that I could overlook all the other things I didn't like. What I didn't like? The blandness of the story and the over characterization.
Now, I understand Albertalli is a former psychologist and works with teenagers a lot, so writing a book that centers on teenagers would be a piece of cake for her. And it does, it does work, to some extent. Because everyone in this book acts and talks like a teenager, but then it becomes, just, too much. And it feels as if the author is just trying so hard to make it seem real and relatable. I don't like all the references; my sister who read this first told me that it's completely riddled with stuff about Tumblr and whatnot and she is absolutely right. This does not just date the book, making it not as timeless and appealing to all sorts of audiences, but it also makes it seem like the characters are trying too hard to convince us that they are teenagers. The over the top characterization makes everything problematic because it becomes impossible for us to look at these characters as real people.
Another thing I didn't like that much about this book is the fact that it's just that. A love story about 2 gay people. There is nothing new about it, it doesn't bring anything new to the table and it's just that bland. Maybe it's because I've been so hyped up about this book for so long that my expectations went up, but overall, I would describe it as disappointing. The romance is nice, I would totally ship Blue and Simon together and there are some really cutesy and genuine dialogue and narrative in some places but that's it. Instead of blowing me away, this book just felt like a tiny gentle breeze that didn't even make me blink. Nice, but ultimately predictable and forgettable story.