Book in Review: Aspen by Rebekah Crane
5:57 PM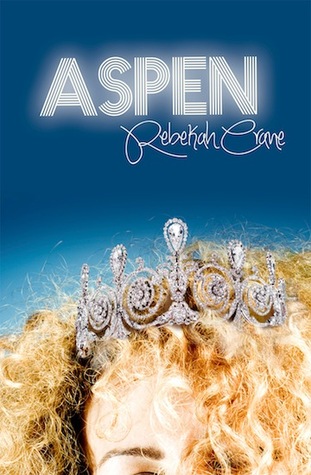 Title: Aspen
Author: Rebekah Crane
Publishing Date: June 5th, 2014
Publisher: In This Together Media
Rating: 5/5 stars
Summary:
One quiet night in Boulder, Colorado, Aspen Yellow-Sunrise Taylor made a mistake.
In the next instant, her life changed forever.
Aspen doesn't want to remember the car accident that killed Katelyn Ryan, a sleek-haired popular soccer player. But forgetting is hard-- because Katelyn may have died -- but she didn't leave. Her ghost is following Aspen around, and heading into senior year, it's kind of a problem. Especially when Katelyn's former boyfriend Ben appears to be the only person at school with a clue as to how Aspen feels.
Popularity, Homecoming Court, hot guys - none of these things ever mattered to Aspen. She's been busy trying to keep her stoner mother Ninny in line and out of unemployment. But with Ben sitting next to her in Physics and her therapist begging her to remember all the things she wants to forget, Aspen is thrust into a vivid, challenging world she can't control ... and doesn't want to.
A darkly funny, emotionally gripping story of opening up, letting go, and moving on, Aspen is about the best-worst accident of your life ... and what comes next.
I did not expect to like this book as much as I did, but wow, it was just phenomenal. Too beautiful for words. There are only few books that leave me speechless after reading it, and Aspen is one of them. This book gave me a lot of feelings, and I was engrossed with the story since page one.
Aspen is such a well-crafted and endearing character. I loved getting into her head and thought she is an incredible narrator. I loved her honesty and her sense of humor. I loved how she has giant curly hair, and I loved her habit of memorizing dictionary definitions. She is a character that I'm pretty sure a lot of teenagers can relate to, because she is just so effortlessly genuine.
Aspen's mother, Ninny, is also pretty unique, in her own weird way. She's not your typical parent in any other young adult book. She's what you say, a bit irresponsible with her drug intake, and her promiscuous escapades. And so, Aspen is the one who has to take care of Ninny all the time, making Aspen so mature beyond her years. What I loved about Ninny though is that even though she may be a tad bit irresponsible, she sincerely cares about Aspen a lot and wants her to be happy.
Aspen's love interest, Ben, is to die for! He is one of my favorite book boyfriends, EVER and I just love how he is so naturally kind and gentle, and just plain beautiful. He's the kind of guy who always has good intentions and would do anything for you, even lie down with you on the street for no reason! I really wanted to hug him for that.
The secondary characters are also well fleshed out. Kim and Cass, Aspen's two best friends, are both so interesting and unique, and I loved their witty exchanges. Suzy, the popular girl, also took me by surprise when she approaches Aspen. I thought she is being all fake and plastic, but she really just wants a new friend.
I really adored all the characters in this book, which is something that I tend to look for in books for me to decide whether or not I like it. The story is also well-paced and I never found a dull moment reading it. It spoke to me in ways unimaginable and I really connected with it. The execution is just perfect, and the best parts of it all were the excellent characters and the lovely writing.
This book is a breath of fresh air, and I wish to read more YA books like this!