My Favorite Golden Globes 2014 Moments
10:38 PM
Have you seen the 2014 Golden Globes awards? Or rather the question is WHY HAVEN'T YOU SEEN THE GOLDEN GLOBES YET?
Everyone loves the Golden Globes, and we all kind of question why other awards shows can't be like the Golden Globes - because face it other awards shows (not naming any shows here!) are just lame. Or maybe the proper question is - why can't Tina Fey and Amy Poelher host EVERY awards show and why can't Jennifer Lawrence win every award in every awards show?
Ok, now that I'm reading that paragraph it all feels like an awards show tongue twister, with all the times I've used 'awards show' in a sentence.
Anyway, since I just adore the Golden Globes, I think it is apt to share my favorite moments of this wonderful, wonderful awards show! (There I said it again)
JENNIFER LAWRENCE!!!!
Okay, without this flawless lady I probably wouldn't even watch the Golden Globes at all. With an Oscar for Best Actress and now a Golden Globes for Best Supporting Actress, JLaw can do whatever she wants (not that she doesn't already!) and so it's no surprise (but it sure is still an amusing sight) to see JLaw creeping up behind Taylor Swift, awkwardly giving her acceptance speech, kissing Nicholas Hoult, telling people she has no idea what she's doing there, and oh dropping jewelry in the red carpet. UH YOU ARE FLAWLESS!
TINA FEY & AMY POELHER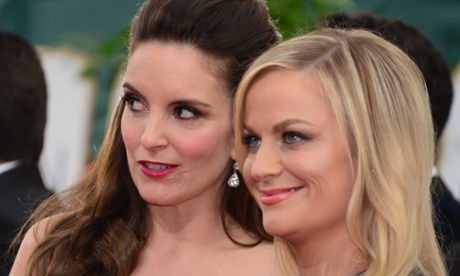 So last year, these two terrorized Taylor Swift in their opening spiel, and so I was looking forward to find out who their next victim will be this year. And man, they do not disappoint! Apart from poking fun on themselves, they also victimized George Clooney, Jonah Hill, Julia Dreyfus, Matt Damon, Scarlett Johansson...and more! I can't even remember!
EMMA THOMPSON
When she gave her acceptance speech, she threw her shoes and carried with her a martini glass saying "By the way, this red is my blood." !!!!!
What are your favorite parts of the Golden Globes? Sound off below! :)