BOOK HAUL: My Most Memorable Books
10:50 PM
NOW LOOK AT ALL THE PRETTY BOOKS! :)
This is my first book haul post of the year (and EVER) but I've always wanted to share to you guys a couple of memorable books that I've gotten recently and why each book is special! They've been sitting on my shelf for a while now and I thought today would be the best time to finally write a post about these lovely books, as it is the first day of the year - at least according to the Chinese calendar.
GONG XI FA CAI, btw! :)
1. Eleanor & Park by Rainbow Rowell
I purchased Eleanor & Park at the MIBF (Manila International Book Festival) a day after I read it on my Kindle. I rarely buy actual hardcopies of books if I already have purchased the said book on my Kindle, but Eleanor & Park was a rare gem that deserved to be in my Kindle and my shelf. Ergo, this book will always hold a special place in my heart! (
See Review
)
2. Where'd You Go Bernadette? by Maria Semple
This book isn't technically mine. It's actually my friend, Eirene's. She bought it at the MIBF with me too, and lent it to me a week after. I liked the book so much that I kept 'forgetting' to return it. HAHAHAHA Okay, I will return this maybe soon. Hopefully.
3. Where Things Come Back by John Corey Whaley
I bought this book at Fullybooked. What do you do when you have limited money? I only had roughly 400 pesos (maybe even fewer) that day and this was the only book I could afford. THERE ARE NO REGRETS WHATSOEVER.
4. Fangirl by Rainbow Rowell
I also bought this one at the MIBF. Even though it cost a lot of money since it's a hardbound copy and I was actually very broke that day (Why is Kimi always broke?), I bought it anyway. WHY? When I was busy deliberating if I should purchase it or not, a friend of mine from school passed by. She said hi, hugged me, then went her way. That girl's name is Cath. The name of the main character in Fangirl is ALSO Cath. I took it as a sign and bought the book. What the heck right. Definitely NOT a coincidence.
5. The Ocean at the End of the Lane by Neil Gaman
I completely adore Neil Gaiman but didn't purchase his latest book as Jessica, one of my close friends told me not to. It turned out she got me this book for my birthday in November, but I only received it a month after during Christmas, because my stupid brother forgot to give it to me (she asked my brother to hand it to me since she lived in another city). Never too late to read a book though.
6. The Mark of Athena by Rick Riordan
This is another gift I received during my birthday from my guy classmate, Ian. Every year he gives me Percy Jackson books so it wasn't a surprise when I opened the gift and saw that it was Mark of Athena. But dude, House of Hades is the latest one not MOA!!!
7. Just One Year by Gayle Forman
I am a huge fan of Gayle Forman and was actually there during her book signing (
RECAP OF THAT HERE!
) just a few weeks ago! However, I am guilty to say that I haven't actually read Just One Year yet (but I have read all the others of course!) so I purchased this book on the day of the signing specifically for it to get signed and also, to finally read it. I actually finished it on that same day while I was waiting for Gayle to arrive. This is a memorable one because it has Gayle's autograph! :)
8. Eyes Like Stars by Lisa Mantchev
This is actually my sister's book which she told me to read because she thought it was pretty awesome. I haven't actually read this yet, but I'm adding this to the list so I'd be forced to finally read it!
9. Luna by Julie Anne Peters
This is the very first book I've read that tackles issues on transgender teens. Reading this felt like a huge milestone for me, and so this book will always be memorable. (
See Review
)
10. The Book Thief by Markus Zusak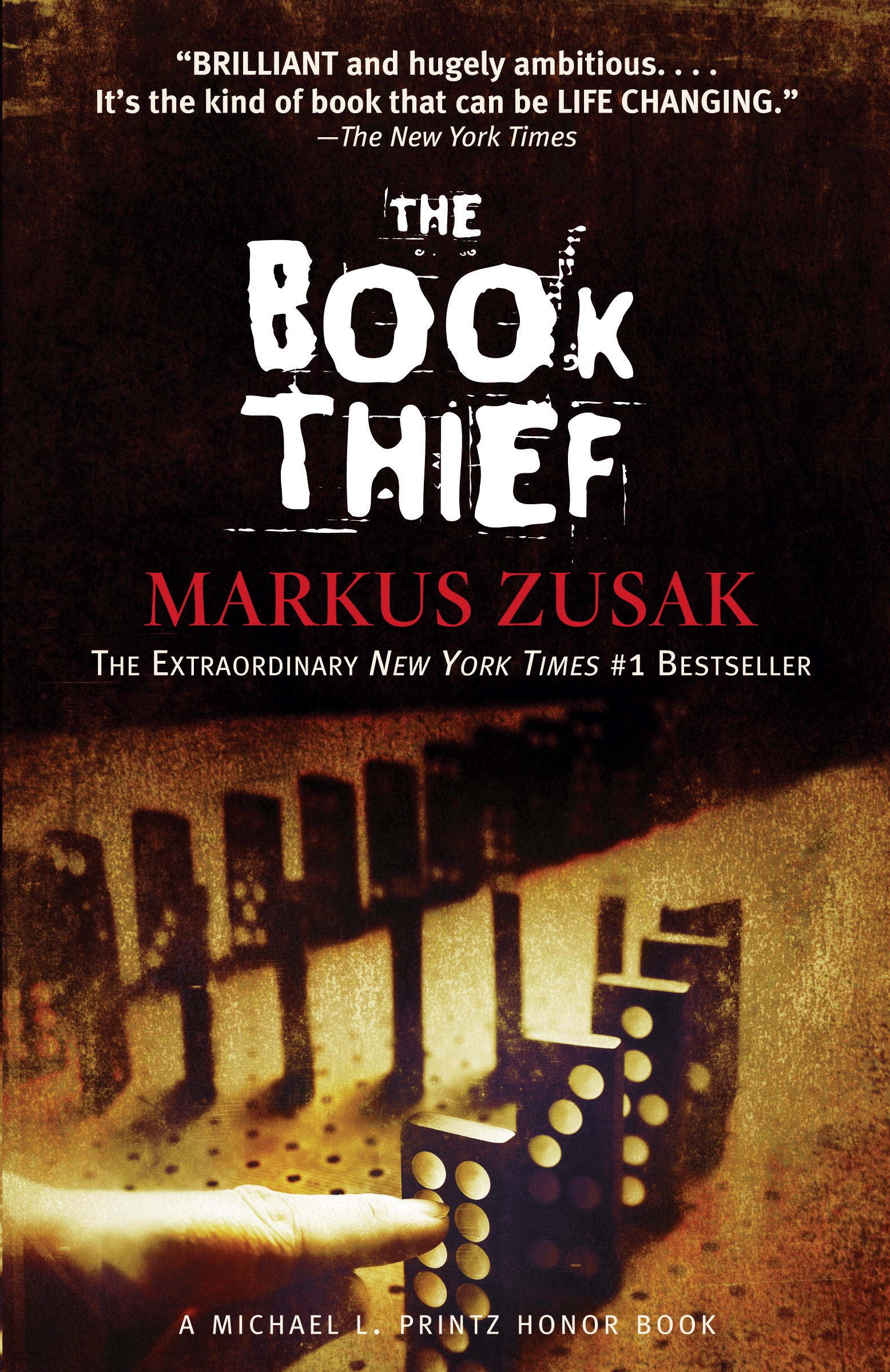 I'm not even sure who bought this book or if I bought it and forgot about it or if someone got it for me as a present. I just saw this lying around somewhere in the house and thought it needed some love. Yay for discovered books!
What are your most memorable books? :) Sound off below! Til the next book haul!