Book in Review: We Were Liars by E. Lockhart
1:24 PM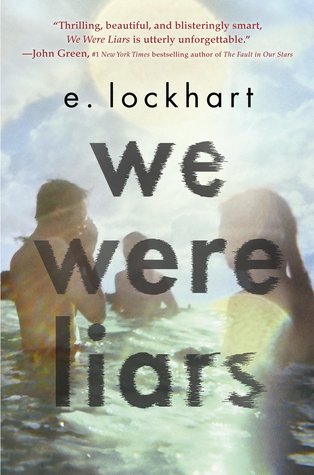 Title: We Were Liars
Author: E. Lockhart
Publishing Date: May 13th 2014
Publisher: Delacorte Press
Format: Kindle
A beautiful and distinguished family
A private island.
A brilliant, damaged girl; a passionate, political boy.
A group of four friends—the Liars—whose friendship turns destructive.
A revolution. An accident. A secret.
Lies upon lies.
True love.
The truth.
We Were Liars
is a modern, sophisticated suspense novel from National Book Award finalist and Printz Award honoree E. Lockhart.
Read it.
And if anyone asks you how it ends, just LIE.
Rating: 10/5 stars
How do you describe a book that gripped you from the very first line, ate away your soul and left your sweet poor little heart shattered into thousands of pieces?
We Were Liars is mesmerizing, intriguing, and so hauntingly real and personal. The writing is crisp, strong and wonderfully messy. The descriptive passages and imagery are praise worthy, and never goes overboard. You've got descriptions like "Sugar, curiosity and rain" and "ambition and strong coffee", a string of simple words that mean so much deeper than face value. The plot starts out slow and cryptic, but quickly picks up as the climax draws closer. The story is sophisticated, smart and unforgettable. It is told from the point of view of a confused and distraught teenager, and the writing is consistently beautiful and emotional and distinctively from her perspective - with it starting as a slow gentle puff of air blowing into your face, then quickly turning into a fast whirlwind as the plot unfolds. The characters are so well-rounded and flawed; each of them are passionate, driven and young, but also imperfect and trying to make things right. They view love and friendship above economic and social stability and try to put justice into a world where money is everything and prejudice is prevalent everywhere.
This book was incredibly painful to read but so unconventionally addicting. There is no Scrabble word that could describe how I feel about this book. This book took my breath away, and I found myself sobbing uncontrollably towards the end of it. I did NOT see that ending coming, and WOW, it tore me apart but it was just brilliant!
Never have I been at a loss of words so drastically over a book. Normally, I tend to blabber on about a book endlessly (even accidentally spoiling it for everyone else) but this is an exception. I just can't seem to say any more. This review may be as vague as the blurb but there is no other way to put this, or you may not truly experience the story when you read it.
It's true what they say that it's better to know absolutely nothing about this book and just go into it blind. Please don't let anyone spoil this book for you, please don't demand spoilers no matter how much you like them, and please do NOT skip to the ending.
My heart is broken beyond repair because of this book, but I have no regrets.