Book in Review: Never Never by Colleen Hoover and Tarryn Fisher
10:46 AM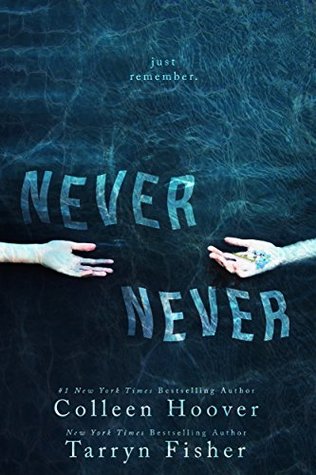 Title: Never Never
Author: Colleen Hoover and Tarryn Fisher
Publishing Date: January 7th, 2015
Publisher: Hoover Ink
Format: Kindle
Rating: 5/5 stars

Summary:

Best friends since they could walk. In love since the age of fourteen.
Complete strangers since this morning.
He'll do anything to remember. She'll do anything to forget.



First of all, what can you get from a blurb as vague as that?
I really really did not know what I signed up for when I started reading this book. All I knew is that both Colleen Hoover and Tarryn Fisher were both authors who punched me in my gut in way too many of their books. And I always always felt like my heart was torn into two after finishing anything they wrote.
So what was I doing reading something that two equally horrible and evil authors worked on?
I sincerely do not know but I'm still punching myself internally for making myself go through something like this.
Because, OH MY GOD, I literally have no words because this book just killed me. Do you have any idea how mindfucked I feel every time I finish any Colleen or Tarryn book? Imagine it twice the impact this time. I wanted to jump out of my window, tie myself under train tracks and get run over by a train, twice.
With a collaboration between two amazing writers (and two evil ones at that), this book doubled on its originality and the pain that it causes its readers. The writing is, as expected, beautiful and has so much emotional depth into it, but really how could I expect anything less from these two wonderful authors?
The characters are very interesting. Charlie and Silas are both well-crafted and flawed characters, and their chemistry is undeniable. I don't want to give anything away but I rooted for them very hard. (I SHIP IT GUYS I REALLY REALLY DO). They have tons of sweet moments but being the impatient person I am, there are some points where I wanted them to just make out already, geez. That is how much I ship this boat. When they finally did make out, it was worth the wait and I liked the development between the two of them. The alternating POV chapters also fit seamlessly with each other, and I have to commend both authors on this because I didn't find the writing inconsistent or weird.
The ending will fucking blow your mind. I cannot wait for Part 2 and I have so many theories in my head and I just want to know which one is right. I can't sleep at night because I am counting down the days until May 17th and I just have so many thoughts and feels and I, crap, that ending is really really good and exciting and my tummy hurts from all the anticipation! Like, good-hurt.
This is one of those books that I cannot tell you anything more about. Like me, I recommend that you read it without knowing anything except from the blurb. Trust me, it is so much better that way. I cannot guarantee that this book will be painless but it's the good kind of pain, I swear.