Book in Review: All Fall Down by Ally Carter
5:46 PM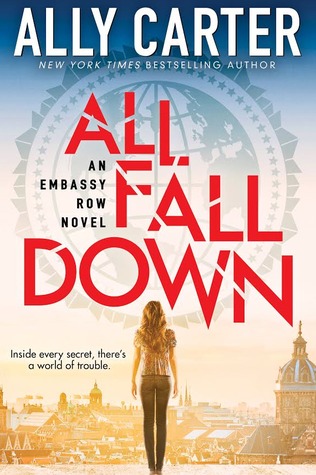 Title: All Fall Down
Author: Ally Carter
Hardcover: 320 pages
Publisher: Scholastic Press
Publication Date: February 5, 2015
Format: ARC
Summary via Goodreads:
A new series of global proportions -- from master of intrigue, NEW YORK TIMES bestselling author Ally Carter.
This exciting new series from NEW YORK TIMES bestselling author Ally Carter focuses on Grace, who can best be described as a daredevil, an Army brat, and a rebel. She is also the only granddaughter of perhaps the most powerful ambassador in the world, and Grace has spent every summer of her childhood running across the roofs of Embassy Row.
Now, at age sixteen, she's come back to stay--in order to solve the mystery of her mother's death. In the process, she uncovers an international conspiracy of unsettling proportions, and must choose her friends and watch her foes carefully if she and the world are to be saved.
I've always seen books written by Ally Carter whenever I go to bookstores but I never really paid attention to them since I'm not sure if I would like them or not. Now, I know why people adore her works!
All Fall Down can be compared to We Were Liars by E.Lockhart, wherein you won't really understand what's happening from the beginning until it's almost the end. Even so, you could still distinguish the difference of both. Ally Carter and E.Lockhart had different writing styles which is the main reason why we could see its difference.
I really liked the uniqueness of the plot, like have you ever read a book about embassy rows? I also liked how there were only few characters, but all of them felt very significant and 3-dimensional. My favorite character would probably be Noah. His character is very cute, and he's a football player, sooooo....
There's a reason though why I am giving this book 4 out of 5 stars. I felt like this book is a stand alone and shouldn't be placed in a series. It would be difficult to make a series out of something so creative and original. Also, if this book stands alone, it might be more noticed and loved in the future.
This is a mixture of YA, mystery, contemporary, and thriller, so if you want to read something exciting that will also make you think, All Fall Down is the book for you!
Some Quotes:
"I'm not an idiot! I'm just twelve. I'm a twelve-year-old girl and neither of those facts are my fault."
"You're following me," I say.
"Yes, I am."
"That's really annoying."
"I'm sure it probably feels that way, yes."
I stop. "I can take care of myself." Overhead, the gas in the streetlamp surges. It grows brighter, harsher. There are no shadows anywhere as he looks at me.
"That's exactly what worries me."
Have you read All Fall Down? What did you think? Leave a comment!
By the way, we changed our comment box section to make it easier for you guys!