Book in Review: Stitching Snow by R.C. Lewis
6:00 PM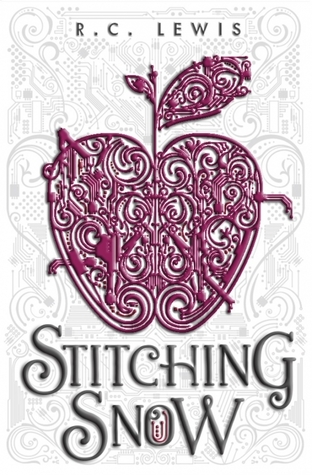 Publishing Date: October 14th, 2014
Publisher: Disney-Hyperion
This book was absolutely amazing. I loved the plot, I loved the characters, I loved how the classic Snow White story was so brilliantly inserted into the into the book. There was never a boring part while I was reading it.
Essie, the main character is so strong without being overly tough. She retains the feminine quality while also possessing enough independence and strength to defend herself. Very few authors manage to do this so I'd like to compliment the author onthat.
Essie is a character who is more than just the words used to describe her. She truly comes to life in this story.
Dane is just perfect for Essie. He is strong and brave, but he doesn't try to be the big hero. In fact, I could easily say that both Dane and Essie play equally huge roles in this book. Dane believes in Essie more than anyone else does. He protects her but also has faith that she could protect herself. He is sweet, has some humorous moments, respects Essie's strength, and is, all in all, the best guy that could ever be matched up with Essie. The couple definitely have great chemistry, but they aren't the type of couple who would sacrifice everything to be together. They still think about saving the kingdom and put it first which is why I wouldn't say that it is completely a love story.
I don't usually read books from this genre yet I was hooked with this story. It didn't feel foreign or weird. Dane, Essie, and even Essie's drones, Dimwit and Cusser are very well developed characters although the villains such as Queen Olivia and King Matthias need a bit more background. Another thing, the Snow White story is very sneakily but seamlessly placed into the plot as if it really is meant to be there. The technology and machinery shown in the book are modern without being overly advanced.
All in all, Stitching Snow is a brilliant and refreshing read unlike any other. Its modern take on the story of Snow White is perfect and readers who like sci-fi or YA will love it.
Have you read Stitching Snow? What do you think about it? Leave a comment!